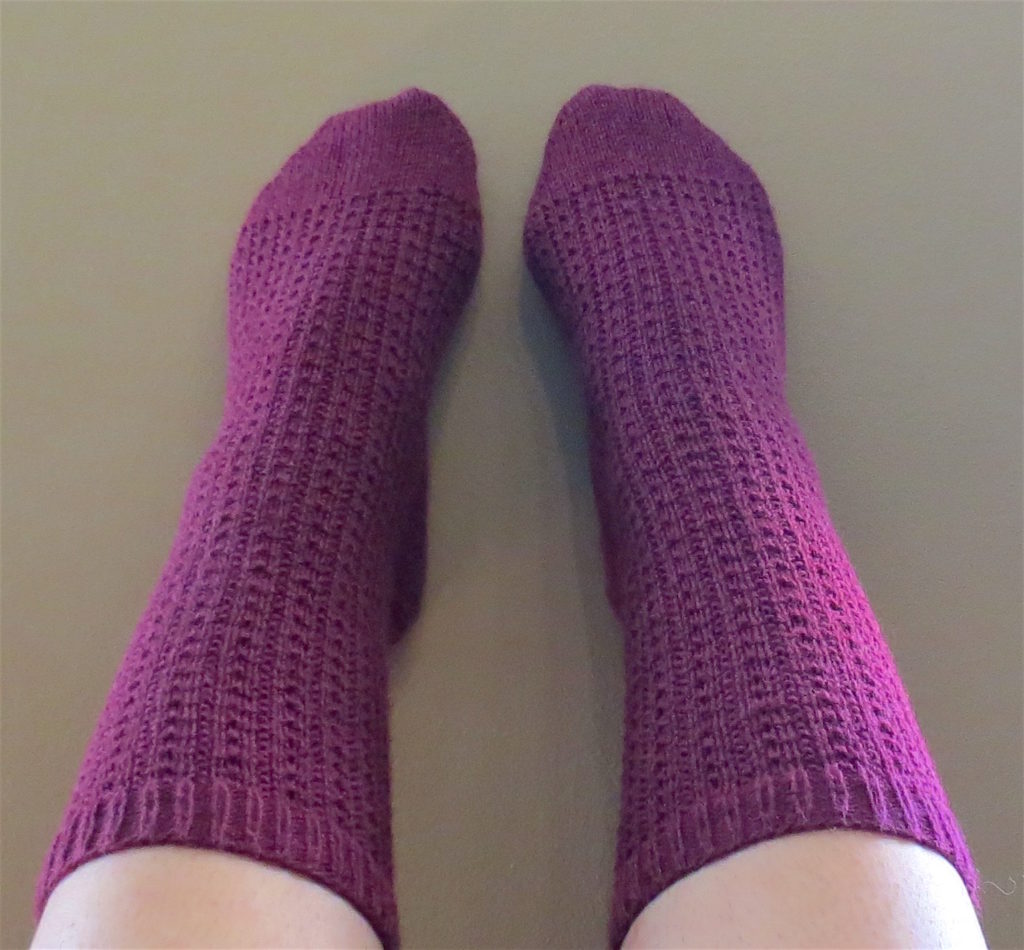 It's taken me a while but I finally got around to knitting myself a pair of socks. And I think I love knitting socks. Well I have yet to come across any knitting that I don't like. I'm trying to think of a knit project I didn't like and I'm coming up empty. Regardless, sock knitting is awesome.
I don't know why I waiting so long to get a pair on my needles. Actually I do. It's the heel. The heel scared the crap out of me. Not that it would be too difficult, but rather that I would screw it up in some enormous way and the only fix would be to start over. To start from the first cast on stitch. Looking back I see this isn't reasonable. I mean rarely is a project so far gone that starting from the beginning is necessary.
So about 3 months ago (wow I can be a real slow poke), I cast on my very first pair of socks. After I finished the ribbing, I set the socks aside for a month. Yup, one whole month I didn't work on them. A severe lack of time was the biggest factor. Followed by starting a handful of other projects.
But then one day I had the urge to finish the first sock. You know that urge. The only thing on your mind is that project, and you want to drop everything else you're doing – regardless of importance – and knit. That was me. So once Jamesy was in bed, I knit. Every free moment during the next few days I would knit. And finally I was able to finish the one sock. What an accomplishment!
I tried it on, showed it off, then immediately started on the next pair. But as luck would have it, this one took me just as long to finish. Two weeks passed without touching my needles – well the needles which held the second sock. Again, other projects called my name. Other matters – taking care of my baby – called my name. Cleaning up our backyard and getting it ready for summer and BBQs called my name. Our home – in desperate need of cleaning – called my name.
And so every few weeks, I managed to work in a few rounds. And slowly but surely, that second sock was getting finished. I could finally see the light at the end of the sock tunnel. When I weaved in that last end, I wanted to shout from the rooftop. I wanted to let everyone that I did it! I finished this pair of socks.
By the end of it, one pair of socks took me 4 months to complete. And it's a strange feeling. I felt such accomplishment for one pair of socks. It feels awesome to finish any project. Each is definitely an accomplishment. But this one, this pair of socks was different somehow. Time and other responsibilities tried to pull me away, and I won.  And my glorious prize is my first pair of knitted socks.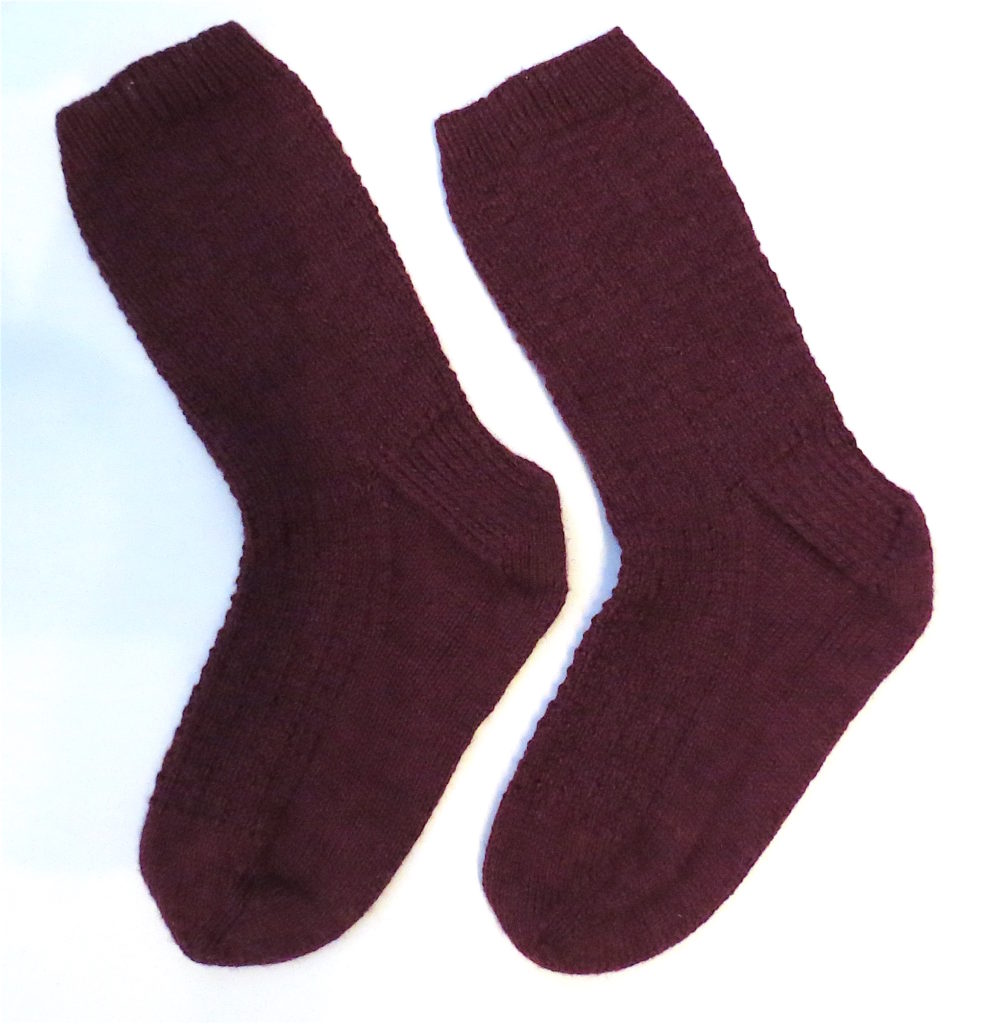 About the Socks
The pattern I used was Petty Harbour by Rayna Curtis. It was a great pattern for my first pair of socks. All of the instructions are clearly stated, very little room for screw ups. As you can see by my perfect heels – which by the way, are not so scary after all. Not too simple (all stockinette) and not too complicated (crazy cables I'm thinking of you). It's a basic four row repeat, which I love. I made the leg longer as I had extra yarn and I love long socks. I'm not a fan of how the toes turned out. Not because of the pattern but it somehow sits funny of my toes, almost lopsided. In all honesty, it's probably my toes which make it lopsided.  I didn't realize this until I was finished the sock, so for the next pair I'm going to try toe up socks. This should allow me to notice any toe issues a few rows after cast on as opposed to when I'm finished.
The yarn used is Knit Picks Gloss and the colour is Bordeaux. It's a wool and silk mix which is surprisingly soft – I had my doubts. I wanted to use yarn with a mix of nylon but I had none in my stash. And as much as I wanted to, I couldn't justify buying more yarn for this pair. But I've already warned my hubby that I'll be buying new yarn for the next pair. Besides James has never been to my LYS and he's overdue for some yarn shopping with Mom.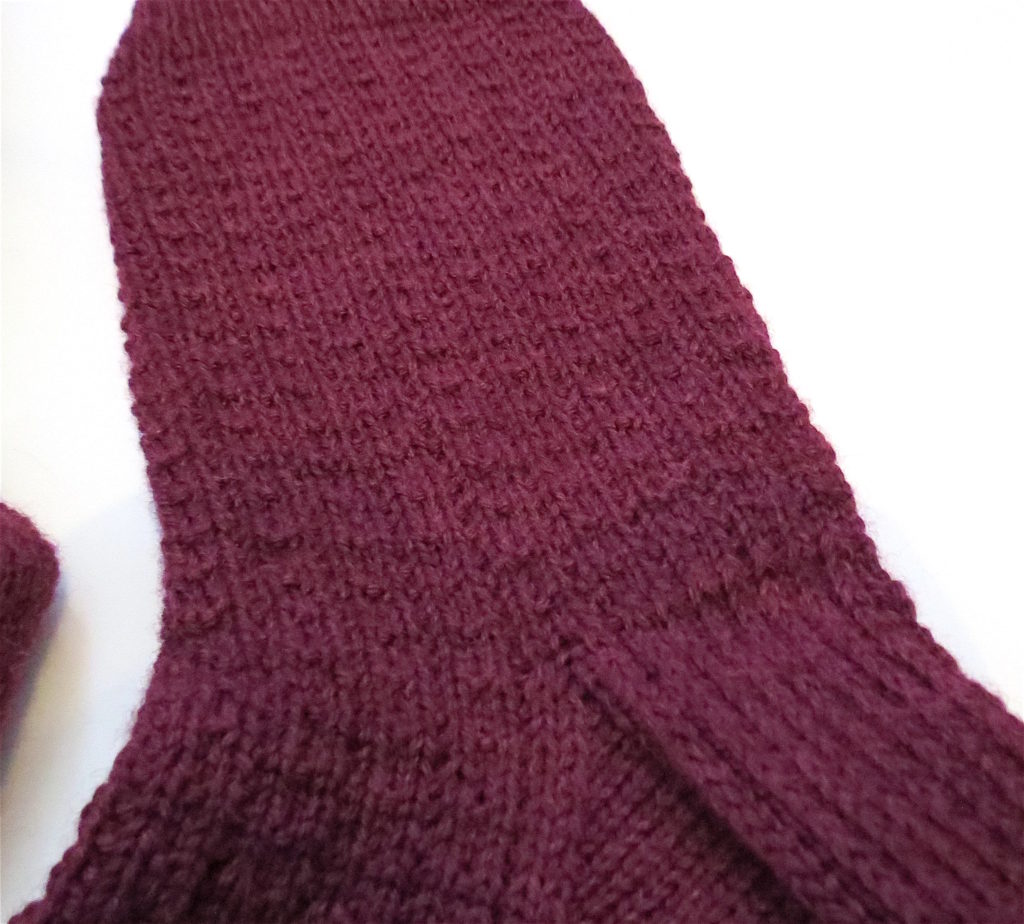 I'm already thinking of my next pair of socks – toe up socks as mentioned. Maybe something with a more intricate pattern, maybe some cables, maybe some lace. I've been looking into a sock kit. One where the pattern and yarn are all delivered to your front door. But I have to find a kit with a pattern and yarn that I like – which is proving to be difficult. Maybe I'm being too picky. Regardless, I shall be knitting more socks soon.
What are your thoughts on socks?
Happy Knitting,
Ashley