Today my baby is 11 months old. I can't believe it. I know I've been saying this at every month but time does go quickly when they are young. In the blink of an eye my little newborn turned into an always moving 11 month old.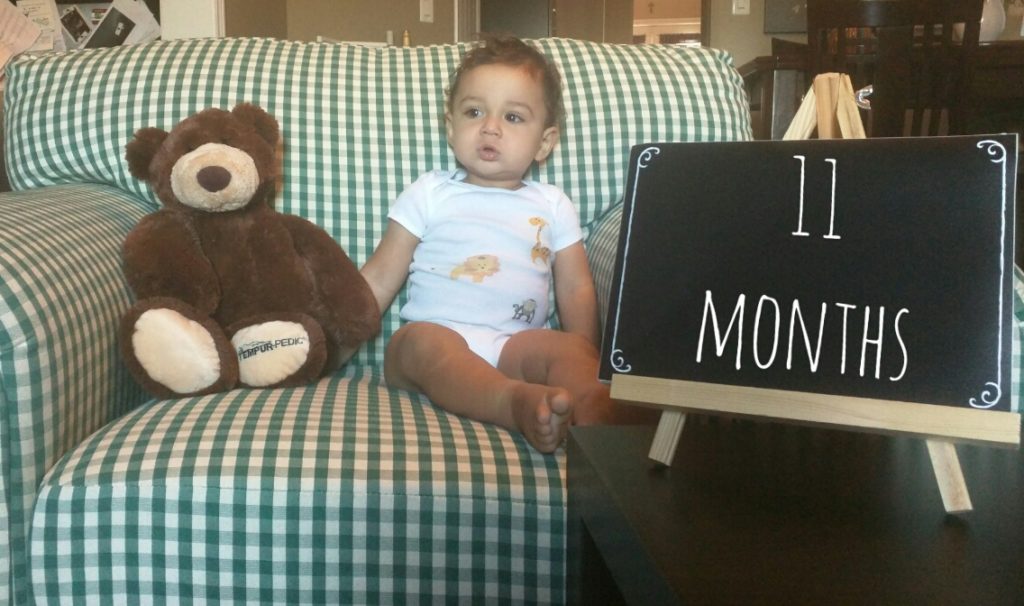 James at 11 Months Old
He can climb the stairs. He loves climbing the stairs. He'll even cry in front of the baby gate in hopes that I'll let him go upstairs. It's great when I want to tire him out before naps or bed time. Just let him clim the stairs a few times. However there's only so many times momma can climb the steps before her legs give out.
He still isn't walking. Surprisingly, he has no interest in walking either. He'll take a few steps while I'm holding his hands but once he notices how slow we're moving he drops to his knees and speed crawls away. That's right speed crawls. Like nothing I've ever seen. I have to be in a slow jog to catch up to him.
Teeth have yet to make an appearance. He acts like he's teething. The drooling, the whining, the chewing on everything. Yet still no teeth.
He's at least 30″ tall and this doesn't include his impressive arm reach. We have very few surfaces left that are James free. Actually there's only the kitchen counter and kitchen table that he can't reach. And every day he finds something new that I have to move out of his reach.
He loves Crosby more and more everyday. He's always looking for him and pointing at him and smiling. He tries to play with him throughout the day. For the most part Crosby plays with him too. James can be a bit rough, more hitting and less petting. I know he's too young to grasp the concept of 'gentle' yet and no matter how much I show him how to pet the dog (with his own hands) he still likes to hit him, or pet him very rough.  Crosby has been perfect, sitting there and taking the abuse. When the dog gets fed up he walks away. I love this and am so proud of Crosby.
He still eats and sleeps like a champ. I always feel like I'm going to jynx these habits by talking about them, especially his wonderful night time sleeping habits.
I can't believe this is the last monthly birthday post. The next will be when he's a year old. My mind seems to be baffled by the fact that I have an almost one year old. I better enjoy his last month as a baby and truly cherish James at 11 months old.
Ashley