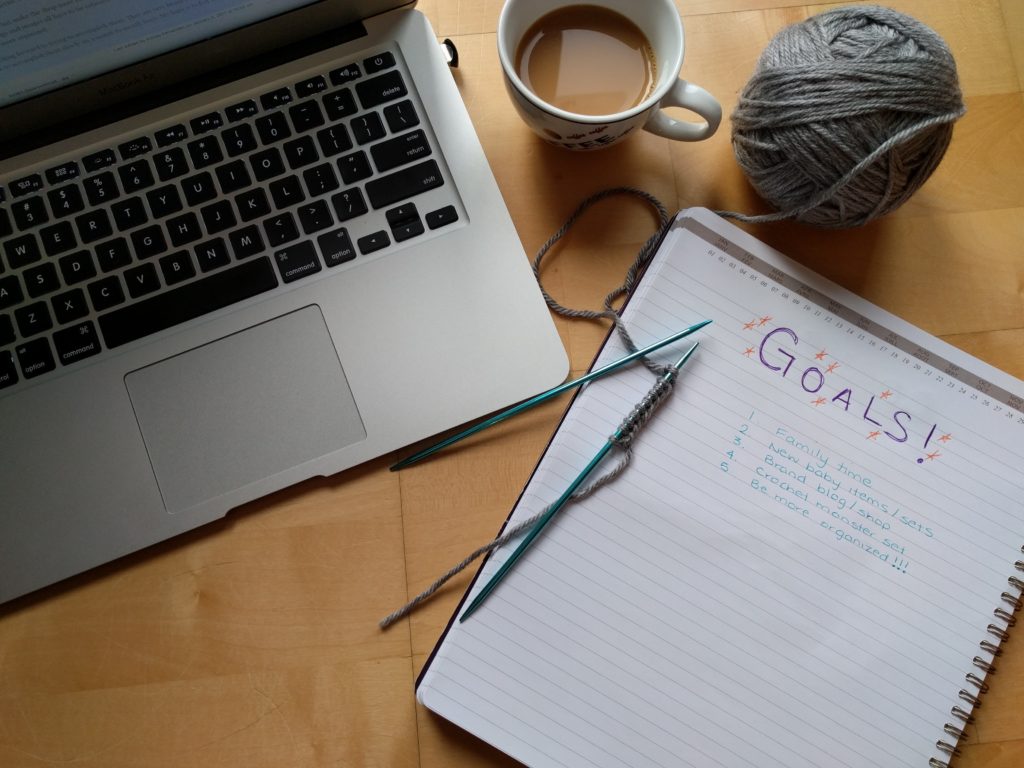 In hope of having a more productive year, I've decided to continue with yearly goals. My 2017 goals will be slightly different than previous years. I used to exclusively make knitting goals, however I'm going to branch out a bit. That means goals for my blog, Etsy shop, family life and of course knitting and crochet.
I'm looking forward to having a more organized plan for this business that I love so much. With a rambunctious toddler, I will have to make the most of the time that is available. As they say, I have to work smarter and not longer (is that the saying?).
2017 Goals
Spend more quality time with my family

. The key word here is quality. We spend a lot of time together but I'd really like to do more as a family. More activities, more outings, more family trips, more memories. This family stage were in now won't last forever and I want us to make the most of it.

Different types of Knit and Crochet baby items

. I sell a lot of blanket patterns and blankets but I need to branch out to more baby items. I've started with some toys but feel like I have to include hats, mittens and sweaters. This year I'd like to add those to the shop. My hope is that I'll be able to create more items because they take a fraction of the time as baby blankets. It's a broad goal so I will need to be more specific in the coming weeks. I might branch out on this goal in a later post.

Update and professionalize the blog

. This blog takes a backseat to almost everything else. If I'm short on time, it's always on the bottom of the list and remains unchecked. This year that needs to stop. I enjoy writing about my crochet and knitting experiences. Sharing keeps me connected to this community that I love and it can no longer take a backseat. Ideally, I'd like to make this blog more professional, having a static front page as well as a shop section where you can purchase patterns directly from this site. Again, it's a fairly broad goal and will most likely take time to accomplish.

Creating a set of Crochet Monsters.

We had a monster themed party for James' first birthday and I created a bunch of small little crochet monsters to give to family and friends. They were about 4 inches tall and took an hour of so to create. I'd love to do this again but create an ebook with all the patterns. Maybe also create some custom orders for people throwing a monster themed birthday.

Organize my Etsy Shop.

Not so much organize but make the shop more cohesive. When customers see my images I want them to know it's my shop. This means my logo and images all have to be cohesive. It will take time to accomplish this goal, that I know, but I think it will help me feel more organized.
My 2017 goals are much different and I'm looking forward to trying to accomplish them. They are very broad and I'm slowly starting to narrow down each goal and how to accomplish them slowly on a month to month basis. My hope is to feel more organized by the summer. Wish me luck 🙂
Happy Knitting,
Ashley