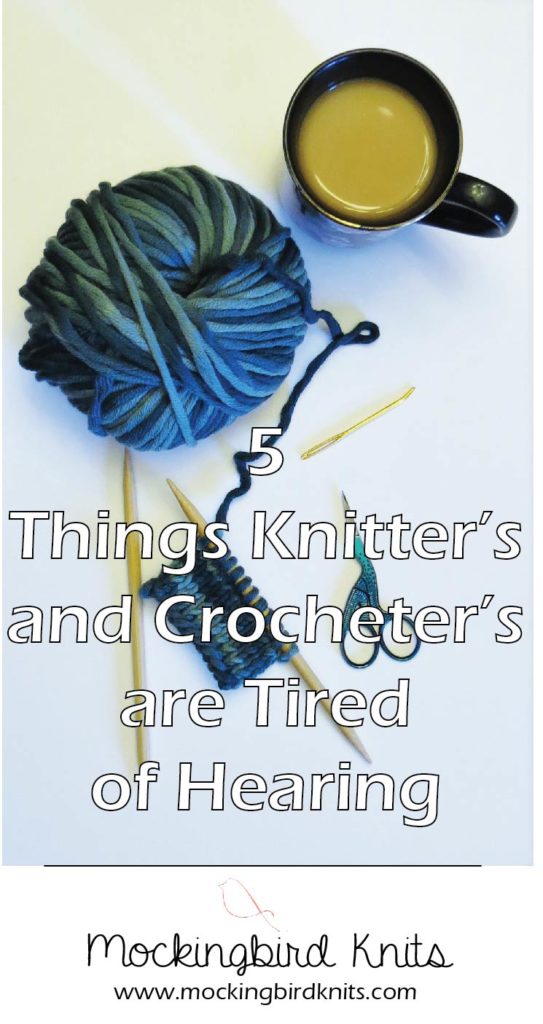 If you're a knitter or crocheter it's a safe bet that you've heard all of these at some point or another. At first, it's not so bad. People are curious or interested. But slowly they becomes irritating and now you're tired of hearing them. So if you see someone knitting or crocheting it's a safe bet they've heard these before.
5 Things Knitter's (and Crocheter's) are Tired of Hearing
Knitting is for old people or You look like a grandma: My brother's say this to me all the time. Especially when I used to knit while watching Jeopardy. And I'm sure I looked like my Memere as she would knit, but she would be watching the Weather Network. Anyhow, there's no age requirement for knitting or crochet. Anyone can do either of them whether they be young or old. I even tried teaching my 8 year old God Daughter to crochet. She wasn't having it. But none the less, knitting and crocheting does not discriminate against age or gender.
Can you make me….: This one makes me a little bit angry at times. Yes there are some that say "How much would you charge if I want so and so" and that's wonderful. But for the most part people expect you to make them something for free. They forget the cost of the yarn, needles, and most importantly your time. Because your time is precious even if you're knitting while watching tv. I usually try to make an item for someone that will appreciate it and who will actually use it. And I usually keep these as gifts. Because there's nothing worse than spending time and money on an item and having the recipient never use it. Keeping it hidden away in a box or closet. My efforts (and yours too) do not belong in a box or closet!
Isn't it cheaper if you buy it: The answer to this is almost always a yes. But I wouldn't get the satisfaction of completing an item. The satisfaction of someone using my items. The satisfaction of someone loving that special item that I made just for them. So as you know my friend recently had her second baby and as with her first I made and sent the baby a blanket, a sweater and a stuffed dog. I made them completely different than those I gifted to her first baby. But her response still makes my heart explode. That now the baby has something of his own instead of all hand me downs from baby #1. So sure, it's cheaper to buy it. You won't spend hours and hours creating something but you know what, they're will be a dozen people out there with that same item. And for me that makes it less appealing.
Can you teach me to crochet or knit: I haven't been asked this too many times but I always respond with an absolutely. I love knitting and crocheting and almost every chance I get to turn someone else into a knitting and crochet addict I take it. Most of the time people don't follow through. I'll bring it up again but they don't seem as interested. Most of the time I help out newbie knitter's with a problem they're having or encourage them to try something new. I did teach one arm knitting class at Michael's but it was nerve racking. I had 9 ladies (all ranging in age —see point #1) and I was ridiculously nervous the entire time. I'm much better one on one. And I told myself maybe teaching a knitting class isn't for me. Then a woman that works with my husband asked if I would teach her and her friends how to knit. Eeeeekkkk. I don't know why I'm so afraid. Thinking about it is making me sweat. I know I should man up and do it. Do the one thing that I find scariest. Get it over with. I mean it can't be as bad as I'm imagining in my head, right?
My grandma/grandpa/mom/dad/etc knits too: There isn't anywhere this conversation can go. I mean how do you reply, 'that's nice' or 'it's very addicting'. Because in all honesty you can't talk to them about your project because they didn't say that they knit or crochet so they would have no idea what you're talking about. They simply know someone who does. And in all honesty, everyone knows someone who knits or crochets. Another great one along these lines is saying they know someone who crochets when you're knitting. Or vice versa. And you correct them and they say 'what's the difference' or 'same thing'. Umm no there is a difference and they are most definitely not the same thing. But who has time to explain it. You have a project to finish.
And this one's a BONUS — Do you really need more yarn: I hear this quite frequently from my husband, or even my mom when we're out shopping. And they answer is always a big fat YES. Sure I might have yarn that's suitable at home but it's not the right colour. Or I might have the colour I want at home but it's not the right yarn weight. Or the right fiber type. There are countless reasons why I need more yarn. And let it be known that the answer to this will never be no.
What are you tired of hearing?
Happy Knitting (& Crocheting)
Ashley